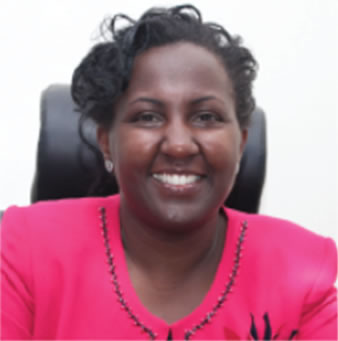 Dr. Alice Njuguna joined Zetech in September 2017 from KCA University where she served as Ag. Deputy Vice Chancellor, Academic Affairs. Before this post, she served as Associate Deputy Vice Chancellor in charge of ICT and Distance Learning as well as Director, ICT. She also served as Dean, Faculty of Science and IT in the same institution.
She has a wealth experience in ICT and education and has held several leadership roles in the Kenya Education Network (KENET). At KENET, Dr. Njuguna was Chairperson of the Special Interest Group in education technology, Member, Audit and Governance Committee and a member of the management Board. She has contributed extensively to policy documents such as the Kenyan ICT policy and master plan.
Dr. Njuguna has published extensively in the field of information systems, ICT policy and E-learning. She has also supervised several students in the field of information systems and technology, data communications and E-learning implementation. Additionally, she has developed and implemented several curricula at masters, bachelors and diploma level in the fields of ICT and Data Communications. Well-travelled, Dr. Njuguna has attended conferences and collaborated with Universities in South Africa, Ghana, Denmark and the USA and has hosted several visiting Professors in a bid to create capacity in the field of E-learning. She is a Trainer of Trainers in E-learning Module development and implementation.
As DVC-ARE&S, she lead the team in implementing quality training, excellent research and stimulating capacity building strategies to ensure students enjoy and excellent learning experience.
Dr. Njuguna holds a First Degree in Science Education from Egerton University, a Master of Science in Computer-based information Systems from the University of Sunderland and a PhD in Information Technology Education from Capella University. Dr. Njuguna is currently working towards attaining her Professorship.